Work or Project Management is becoming increasingly popular by the day. More and more people are using work management software. Such tools help teams and managers become more productive by letting them do their tasks with ease. With these tools, users can create tasks, assign them to team members, set due dates, and monitor their progress. One of these free project management software is Clickup. It is a cloud-based collaboration that is suitable for businesses across all industries. Whether big or small, businesses can cash in of features like communication and collaboration, tasks assignment and statuses. In this blog we will see how to use Click-Up, a free work management tool.
ClickUp uses a cloud-based collaboration and project management tool suitable for businesses of all sizes and industries. Features include communication and collaboration tools, task assignments and statuses, alerts and a task toolbar.
Users can assign comments and tasks to specific team members or groups of team members. Comments and tasks are often marked as resolved or ongoing. Users can also create custom statuses. The activity stream displays tasks as they're created and completed in real time. Clickup is available as a web app, desktop app and also has mobile apps for Android and iOS.
If you've got a small team, ClickUp is the best tool. One can collaborate on large and little projects. The free version which I use is superb and offers everything you would like in a project management software including integrations with Google Calendar . If you're a bigger company, you can get an upgrade. In simple words Clickup is a life-saving software and helps increase efficiency of the entire team.
Creating an Account Click-Up
1. Visit clickup.com
2.You can see two options to login or to sign up. If you have never used it before, go to sign up.
3. You can sign up to Click-Up by entering your name,mail id and a password.
4. Now, the first thing we got to do is to select whether only we are using Click-Up or all your team members and joining.
5. Now that you have created an account, named your project, you can select any of the templates which helps you in your project.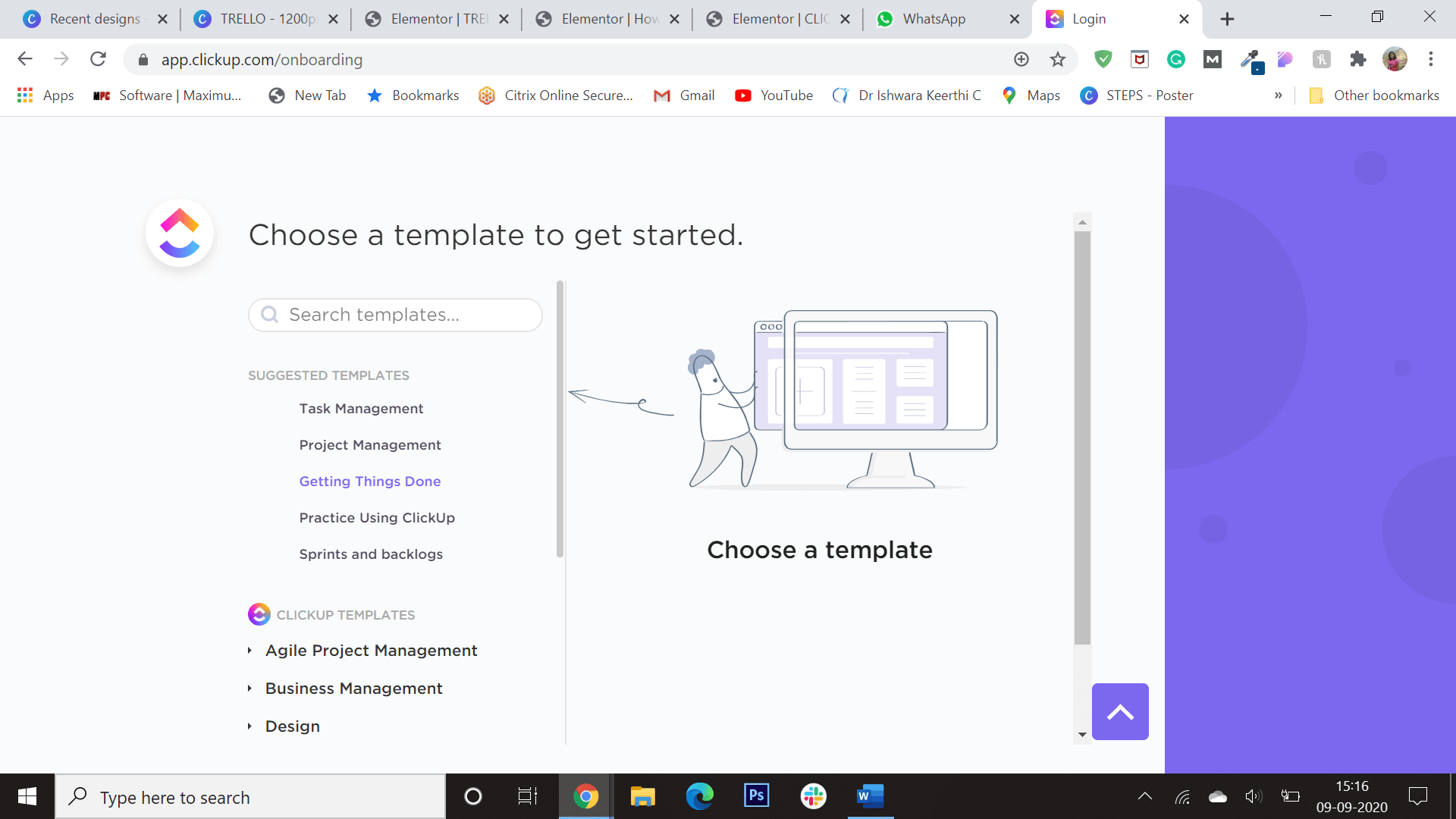 6. You are all setup. Click-Up works as a web app or you can also download a desktop application. Click-up is also available for Android, Windows and iOS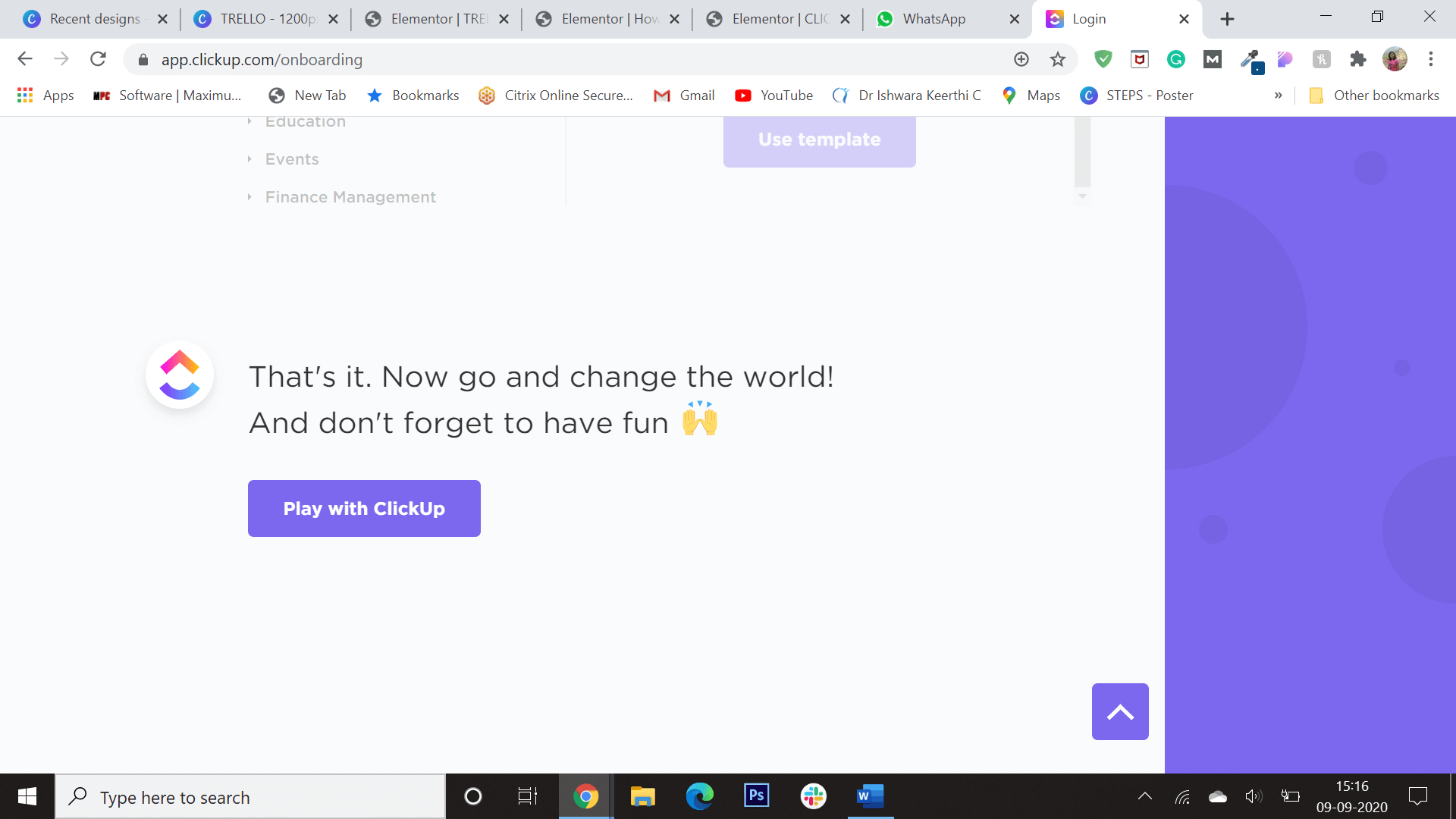 Instantly create and assign action items for yourself or others.
Collaborate together on one task – if your Space allows it.
Customize your workflow with statuses to suit each individual project.
Seamlessly manage and collaborate on Git workflows, sync time tracking with Harvest, and send tasks to and from Slack.
Automatically cause important tasks to repeat at specified intervals.
Retain the structure of your favorites Spaces, Projects, Lists, and checklists for later use.
Get an summary of your entire workflow, and drag and drop tasks to reschedule. This includes a true two-way calendar sync.
Create custom priority levels, and organize tasks supported their importance to a project.
Drag and drop tasks regardless of where they're in ClickUp – Board, List, or Box view.
Not only does ClickUp have the neatest search function within the world, but with AI , Smart Search gets smarter as you employ it!
Specify both time and day, and obtain notified when tasks are overdue .
The right place to store notes unrelated to specific tasks or projects. Add checklists, rich editing, web links, and more.
Provides fully comprehensive features to extend productivity, including time tracking, image markup, and task creation.
Create your own customized sidebar to incorporate sorting, filtering, and even your favorite view.
With ClickUp, teams finish work faster and on time than they are doing with other project management and productivity tools. ClickUp works for developers to designers and everybody in between. ClickUp is one among the few programs where everyone within the organization can get on board. With more visibility and accountability in your reporting, you'll have a full picture of not only your projects but where your team is spending their time. The optimization and efficiencies you'll gain are immeasurable.