Online Meetings: Which tool should I use?
About 5 years ago, while I was doing my Bachelors of Engineering, I came across Skype and Google Hangouts. These were the only options at that time, for video calling or for conducting online meetings with other people.  Never did I think, the time would come when my mum and dad, both professors, people who were reluctant to try out the different features on a mobile phone such as google maps or social media, would adopt this technology for conducting online meetings and classes. But its 2020.
COVID-19 has turned the world upside down. We read about how the economy has been disrupted because of the pandemic, in the papers daily. With the lockdown restrictions on society, small businesses, schools, colleges, construction, industries have been forced to shut down. 
Whether you are a small business owner, an educational institution, an advertising agency like us or a student working on a project, all of us are looking for the BEST FREE TOOL TO CONDUCT ONLINE MEETINGS, so that we can work from home and plan how to get things back on track once the societal restrictions are lifted. It's easy to chat with your colleagues and catchup with friends when online calling is free.
The video conferencing software industry has seen a boom in the recent past. There are a number of tools in the market. In this article, I will cover 3 of the MOST POPULAR FREE VIDEO CONFERENCING APPLICATIONS, which you can use to conduct your online meetings.  
Skype is the pioneer of video conferencing applications on the Internet. It started in August 2003, 16 years ago. Microsoft currently owns it.
Skype allows you to call upto 50 people for free for a video/audio call. It is free for all Skype-Skype communication including video conferencing, chat and voice calls over the internet. Group video calls are subjected to a limit of 100 hours per month with not more than 10 hours a day and a limit of 4 hours for an individual video call.
If you want to call someone's mobile phone or landline, you will need to purchase Skype Credit or a subscription. Skype has a desktop as well as mobile app which is compatible with Windows, Mac OS, Android, Linux, Xbox and Alexa devices.
Skype offers SMS Connect, a way to read and reply to your phone's SMS messages on your PC.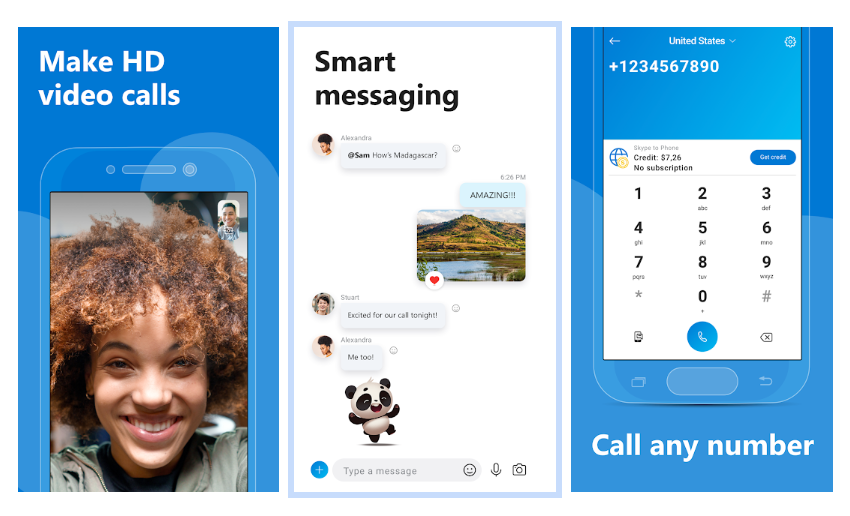 The latest update for Skype during COVID-19 is its Meet Now Feature. The host as well as other participants do not need a Skype account. All you have to do is visit and click on Create a free meeting as shown below. You can share the created link with your friends and colleagues, with whom you want to have a video call.  The link doesn't expire and is accessible anytime. There is also an option to share your screen, in case you need to give a presentation or teach a class. You can record your calls, which Skype stores for up-to 30 days. For all those working in rooms with clutter, there is also the Blur Background option.
Zoom is owned by Zoom Video Communications, Inc, an American company started in 2011. I first came across Zoom, when I was organizing a webinar on 'Studying in Australia'. I was looking for a software which will let me connect with many people and provides me unlimited time to host a meeting.
Zoom is an online meeting tool which lets you connect with 100 participants (including you) during video/audio calls. This is double the number achievable through Skype.  One-on-one meetings, are not time bound, but group meetings have a limit of 40mins. Your first meeting however, will be not time bound. Hence I used Zoom for conducting my webinar.
Zoom is available for desktop and mobile. It also has a web feature https://zoom.us/ through which you can conduct and organize meetings without the application installed on your device.
Zoom is popular because of its ease to use. Its interface is very easy to navigate and intuitive. A cool feature of Zoom is its virtual backgrounds. It allows you to display a video or an image as your background during a Zoom Meeting.
Unlike Skype, which supports screen sharing one person at a time, through the Zoom desktop client, hosts can choose multiple participants to share their screens simultaneously during the meeting. It also has a Waiting Room feature, which allows the host to control when a participant joins the meeting. Breakout Rooms is another awesome Zoom Feature which enables you to split the participants in your Zoom Meeting into separate sessions for group discussions. At the end of the discussion period, you can close the rooms and they will re-join the main meeting. You can choose how to divide your participants into groups or you can let Zoom do it for you.
Zoombombing
Recently Zoom was in the news for privacy issues. The increased use during the pandemic resulted in widespread exposure to hackers (unfamiliar users show up during a session and hijack it with racist and pornographic content). This is called Zoombombing. Zoom has responded by updating its security measures adding encryption and new privacy controls.
Google Hangouts is a communication tool by Google. It became a stand-alone product in 2013. It is easily accessible through Gmail or Google Plus. It's also available as an app for Android and iOS.
Google Hangouts is a platform that enables you to conduct online video/audio calls with multiple people. Video Hangout calls can be done with 25 people, while upto 150 participants can come together for a text based meeting.
Google plans to eliminate the 'Classic Hangouts' by the end of 2020. It is now split into 2 products, Google Meet (for video conferencing) and Google Chat (for messaging). It was accessible to only GSuite users (premium service of Google) until recently. Due to the rise in video conferencing in the recent past, because of coronavirus, Google has decided to offer its premium version of Google Meet to all Google users for free.
You can check it out by visiting https://meet.google.com/. The time limit for meetings is 60mins. Currently, it's not enforced until Sept 30th. Google Meet supports upto 100 participants now. It is available through the browser or mobile apps for iOS, Android. Google Meet markets itself on the aspect of privacy, where Zoom failed. For example; you cannot click to join a meeting on Google Meet without logging into your Google Account.
You can schedule meetings on Google Meet using Google Calendar. Google Meet has live captions feature which displays captions of the person speaking so that people who cannot hear well can follow what's said in the meetings. Apart from this Google Meet features are similar to Zoom and other video conferencing software's. It offers the option to share a screen with other participants. Unlike Zoom, Google doesn't offer recording support as part of its Free plan.  Google Meet uses AI to adjust your video to make it more visible in low lighting situations. It also uses advanced technology to intelligently filter out background noise.
Now that I have listed 3 of the most popular video conferencing online meeting tools, along with their benefits, it is up-to you to try them out and choose your favourite.  Each tool has their premium versions, adding many more fantastic features for a price.
If you are looking for someone to help you setup these tools for your business, be it a school or a college planning to conduct online classes, please contact me or my team at hello@marketbird.in or call at +91-7204592231 We will help you get started with videoconferencing!