Beginners Guide To Domain Names
You may be planning to build your first website or you may be just researching for your school paper. This article covers the basics of what are domain names, domain extensions, and tells you how to choose your domain name and buy it. It is for all those people who do not want to know the technicalities of how a domain works and are more interested in the practical aspect of a domain name.
www.marketbird.in, www.google.com, www.amazon.in. These are all domain names, also known as website domains or just domain. In simple terms, a domain is the address of your website. According to Wikipedia, it is an identification string that defines a realm of administrative autonomy, authority or control within the Internet. Your domain is unique to your website and this is what makes it stand apart from other websites.
Finding a unique domain name
When we started our marketing agency and were thinking of names for it, we kept in mind that we need to have a website and an appropriate domain name. For example, we couldn't just think of any name and say "Ok, lets name our company Corona since we are starting our company during Corona Lockdown" Both domain names corona.com and corona.in were already taken.
So whenever, you choose your business name, ensure that you have a valid domain name available for it, since it marks your brands digital presence. To find out if the website domain name you want is available, you can use name.com and type the required URL in the search bar as shown below.
The picture below shows that marketbird.in is unavailable, although domains like marketbird.app, bird.market can be bought.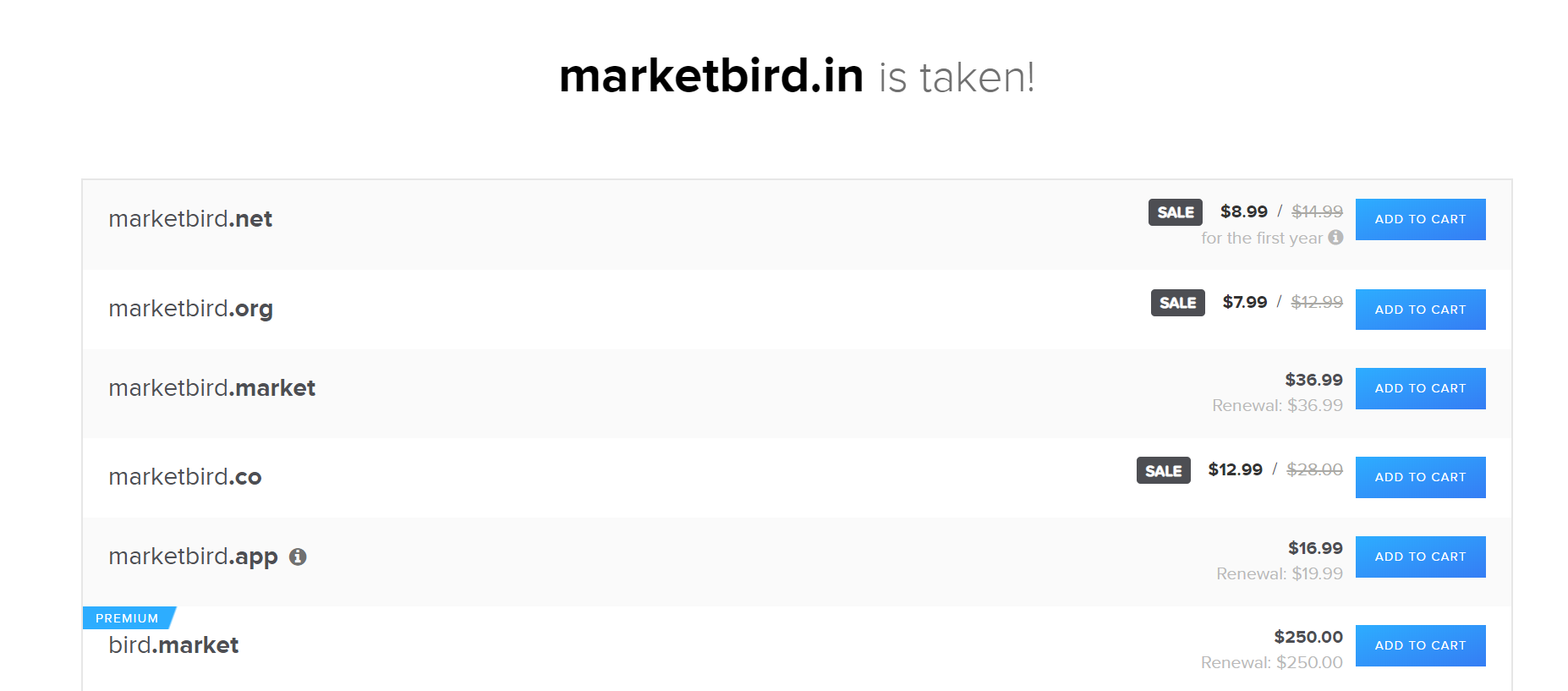 There are 2 options. A free domain vs a paid domain. A free domain is usually a subdomain. One can obtain it through popular website builders such as WordPress, Weebly, Wix, etc..
For example, our business Market Bird can get a free domain at WordPress. This will look something like: marketbird.wordpress.com
A free domain is good when you want to learn how to build a website. But when you are building a brand, or you have long term plans for your business, you are better off paying for your own domain name. This is because you do not own the subdomain. The domain marketbird.wordpress.com, if created, would be owned by WordPress. We wouldn't be able to switch it to another service provider later on.
Having a paid domain name will help you stand out on the Internet as your brand.
So in summary, YOU SHOULD ALWAYS BUY A DOMAIN IF YOU ARE USING THE WEBSITE FOR ANYTHING OTHER THAN LEARNING.
Is a domain sufficient to build a website ?
You are given a house address, but this doesn't guarantee that someone lives there. The same rules apply for a domain. A domain is just a name or an address for your online presence. To have a website loading when someone types in your domain name, you need hosting. Basically, hosting is a service. It makes use of servers which are special computers, which store all your website information. The hosting service allows this information to be viewed as webpages on your domain. So the first step in building a website would be to buy a domain and hosting for it.
Where can I buy a domain ?
You can buy a website domain by itself or you can purchase it along with a hosting plan. Some of the popular domain registrars are domain.com, godaddy.com, namecheap.com. Many hosting companies provide a free domain along with their hosting plans. I normally choose this method while buying a domain, because you can get everything you need for your website at a single place. Check out hostinger.in, hostgator.in, for their affordable hosting plans.
The cost of buying a domain ranges from $5 to thousands of dollars (premium-domains). Premium domains are domains that have the potential to get high traffic and have strong branding. I do not recommend buying a premium domain for small and medium businesses.
This article was aimed at, covering the basics of what is a domain. I hope it helps you understand how to choose a good domain name for your brand. I will be covering the technicalities about a domain in a future blog post. If you have any questions regarding a domain, please comment below. Those who are looking for reasons to build a website for their business, read my article 5 reasons your business needs a website.
At Market Bird, we specialize in branding and we are here to help you build a website for your brand. Email us at [email protected] or call us at +91-7204592231 and you needn't worry about buying a domain, hosting, or looking for web developers. We will do it for you.